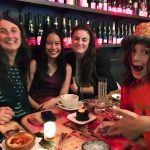 The U.S. Department of State exchange student program is a way for foreign high school students to come to the United States and take part in our culture.  The student program began in 1949 and is a vital element of the U.S. public diplomacy.
Families open their homes to the students as a host family.  Being a host family offers a unique opportunity for you to experience firsthand the richness and diversity of a culture different from your own.  You may be the first U.S. person the student meets.
A host family has many responsibilities, the most important is caring for the student.  As a host family you will provide the student with meals, a home, and transportation to school, as well as sharing his/her experiences while she/he are a part of your family.  The student has insurance and a monthly allowance for personal expenses.
Being a host family is thrilling:  without you the program would not exist.  The program offers you, your family, the foreign student, and local school the opportunity to create a strong lifelong relationship.  This is one of the most important contributions any family can make to the school. Host families have found the experience to be a rewarding and enjoyable involvement.
Please contact admin@northcoastprep.org if you are interested in being a host family.