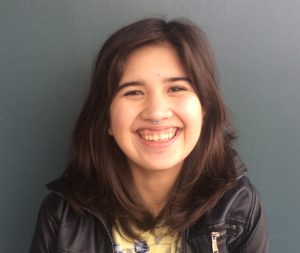 Northcoast Preparatory Academy (NPA) is proud to announce that Sophomore student Acacia Castillo won the Humboldt County Poetry Out Loud contest. On March 10, traveled to Sacramento for the State Finals. She performed her last poem on the floor of the California Senate Chamber at the State Capitol Building, with state senator Mike McGuire and other representatives watching in admiration
Poetry Out Loud awakens in high school students the confidence to make themselves heard through the use of art, a most powerful tool. "I believe poetry out loud is important as an outlet for students to find their voice and as a tool to help students find meaning and personal connection in poetry they might have never found before. It is an avenue for uplifting youth voices in an otherwise adult-dominated art form and giving students an introduction into the hope and support that is created in poetry communities across the country," says Dylan Collins, Humboldt County Poetry Out Loud Poet Coach.
"I like being on stage and going out there," explains winner Acacia Castillo. "I was nervous, but it's good to overcome stage fright, and I was very motivated because I feel strongly about poetry."
NPA has participated in Poetry Out Loud for years. For Arny King, NPA History Instructor, it's all about "the intersection between poetry and performance that is uniquely suited to NPA's strengths in writing and the performing arts." There is also long term benefit, as King points out: "The skills acquired from Poetry Out Loud contests pay dividends in college, the work force, and beyond."
NPA is proud of Acacia worked hard to represent NPA and Humboldt County.
Poetry Out Loud is an initiative of the National Endowment for the Arts, administered statewide by the California Arts Council.